Lower costs. Skilled dentists. Total professionalism. No-pain options available. Caring & friendly staff. White Cross Dental Clinic St Lukes.
Call us now on 849-2262. We'll do everything we can to see you today – or at a time suitable for you.
The way we work at White Cross Dental Clinic St Lukes
Although this page is titled "About Us", our attitude is to focus on you. If it wasn't for you, this dental clinic service could not exist. We are here to serve you.
What you can expect from White Cross Dental Clinic St Lukes
Advantage No. 1 for you is our prices. We want you to come back, and we love you to recommend us to others. To do this, we have to earn your respect and trust. So we start by keeping our cost down. We will charge you just enough so we can do quality dental work for you. It's people before profits here at White Cross Dental.
Advantage No. 2 is the quality and professionalism of our dentists. When you come to White Cross Dental Clinic – Dentist St Lukes, we promise that the professional who takes care of you is fully qualified and well experienced. You know you are in safe hands.
Advantage No. 3 for you is our Caring Staff. A visit to the dentist for some can be a nervous experience. Our White Cross Dental Clinic St Lukes team really care about how you are feeling. So if you are nervous, they will talk to you and put your mind at ease.
Advantage No. 4 is safe world-class no-pain or low-pain dentistry. At White Cross Dental we are equipped and trained to provide the very best in pain reduction and pain elimination. In some complex circumstances, we can't always promise no-pain, but this we can promise… We can promise you to carefully asses your situation and provide safe levels of sedation to minimise any discomfort.
Telephone: 09 849-2262. If you call White Cross Dental Clinic St Lukes, we will demonstrate our professionalism. We will listen to you carefully and provide the information you want. Plus, we'll use plain simple words. There's no complicated dentist- speak here.
Parking: Not a problem. We have 17 off-street parking bays that are located at the lower level of the dental clinic.
Reception: This is where we want to show you more of our care and professionalism. At White Cross Dental Clinic St Lukes, we will start by warmly welcoming you on your arrival. We promise to listen to you carefully and answer any questions you may have. If you have any special concerns or medical conditions, we can note this information and inform your dentist.
Multiculturalism: We are now a truly multi-culture community. And we believe that every nationality adds to the makeup of our colourful Auckland culture. So if you're looking for a dental clinic or dental surgery that respects your culture, we invite you to put us to the test.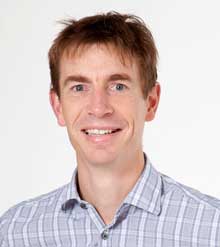 About the practice manager
Graeme Christie is the practice manager of White Cross Dental Clinic St Lukes. Graeme is a very friendly and truly professional dentist. He cares about people and he cares about high quality dentistry.
Graeme was trained and qualified at Otago University (1991-1995).
He began his practical experience as a dental clinic house surgeon at Auckland Hospital.
This gave him valuable knowledge and experience. Much of his work involved people with severe medical problems, problems that complicate dentistry.
This background makes Graeme well qualified to be the leader of a White Cross emergency dental clinic.
The next 12 years saw Graeme in the private sector. This was both in New Zealand and in the UK. During this 12 year period, Graeme gained a wide range of practical experience in delivering quality dental services to a wide range of people.
Graeme's special interest is quality dental service at affordable prices. Naturally, he surrounds himself with dentists and support staff who also value this proposition. Thus when you come to White Cross Dental Clinic St Lukes, that's what you can expect – quality dental service at affordable prices.
This is why Graeme became closely involved with the White Cross group of dental clinics and dental emergency services.
He likes the culture, ethics and standards of the White Cross Dental clinic system so much, that he set himself a big goal.
The goal was to own his own White Cross dental emergency and family dental clinic.
In February 2007 Graeme's big goal became a reality. Four years later, Graeme took over as practice owner-manager for White Cross Dental St Lukes.